Flower Club Gift Ideas
Whether it's for a special occasion or just because you feel like doing something nice, it's easy to send some average flowers with a short note. These one-time bouquets make decent gifts, but they're quickly forgotten by the recipient once they're gone. Why limit your gift to just one bouquet when you can easily send flowers throughout the year with a membership to The Fresh Cut Flower of the Month Club™?
Each month, that special someone will receive professionally designed floral arrangements with flowers harvested just two days before being shipped overnight. Our internationally-grown flowers fall within premium grower ratings and are carefully selected to impress guests and remind the recipient that they're loved every time they walk past the bouquet.
Use our promo codes for your order to save up to $30.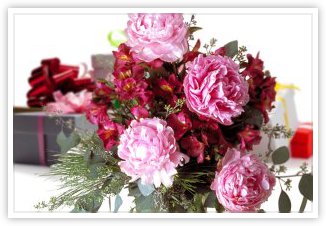 Send anywhere from 2 to 12 shipments every month, every other month, quarterly or on specific months you choose.
Design Your Own Club and combine our flower club with any or all of our other five monthly clubs in one membership.
Make your gift more valuable with a personalized announcement.
Rest easy - we're going to make you stand out by shipping stunning bouquets of beautiful fresh-cut flowers.
While it's always a great idea to have small-batch artisanal chocolates delivered to those you love, we suggest taking it one step further and creating a unique monthly club through our Design Your Own Club™ program! With a DYOC membership, you can pair gourmet chocolates with beautiful flower bouquets, red and white wines, craft beers, farmhouse cheeses, and premium cigars, all in one subscription club.
A Flower Club Gift Membership is Easy, Memorable, and Affordable
Select anywhere from 2 to 12 shipments and have them arrive every month, every other month, quarterly or even on specific schedule that you create. Your thoughtfulness will be remembered with every bouquet.
Easily print custom gift announcements now or email one on a date that you choose.
No wrapping or waiting in line during the holiday rush to ship your gift.
You can combine your flower membership with our other monthly clubs with our Design Your Own Club™ program! Pair your flower club with our chocolate club, wine club, cheese club, cigar club, or craft beer club!
Most importantly, rest assured knowing that we'll ship flowers you'll be proud to give and provide you with knowledgeable, responsive and friendly customer service that's earned us an A+ rating with the Better Business Bureau.
The Fresh Cut Flower of the Month Club makes a great gift for any holiday or occasion, including:
Valentine's day

A bouquet of roses is a classic gift, but you can make this Valentine's Day truly memorable by sending flowers throughout the year!

Mother's Day

Your Mom deserves more than another simple flower bouquet you picked up at the convenience store. Keep her happy on Mother's Day and all year round with a membership to our monthly floral subscription.

Anniversaries

Don't let your significant other down this year with another simple or expected flower bouquet – give them a gift that keeps on giving with our flower of the month club.

Birthdays

A birthday may only come once a year, but with a subscription to our monthly flower club, someone special will get a new birthday gift every month!

Christmas

Make Christmas last all year by gifting a membership to our flower club. Even Santa can't match a gift this great.
Customer Testimonials
"I have been very pleased with the quality of the flowers as well as their packaging."

Linda Sawran, TX
"I would order the from The Fresh Cut Flower of the Month Club again for anyone who needs a great pick-me-up!"

Julia R., TX
"The flowers show up fresher and more elegant that you can get at your local flower shop."

Craig & Stephanie Satterfield, CA
"The flowers show up fresher and more elegant that you can get at your local flower shop."

Neal & Aimee Johannes, TX
"I recommend this site to anyone needing to send flowers or shopping for the person who has everything."

Tony & Lori Petosa, CA
Read more testimonials
100% Satisfaction Guarantee
Our 100% satisfaction guarantee ensures that every item you purchase at The International Flower of the Month Club meets your high standards or we will replace it or refund your purchase.