The History of Flowers by Mail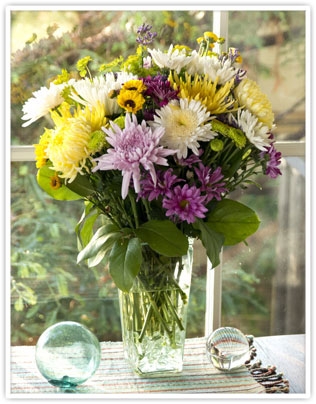 Since our earliest days, humanity has viewed flowers as the embodiment of beauty and joy. The ancient Egyptians, Chinese, Greeks, Romans, and more all used flowers as decorations, included them in artwork, and valued flowers as ceremonial objects for everything from funerals to religious traditions and celebrations. These age-old practices still exist today, and humanity's love for flowers allowed us to create entire companies focused on growing, arranging, and delivering beautiful floral arrangements around the world, including The Fresh Cut Flower of the Month Club!
The traditional mail-order flower delivery industry began in 1910 when a group of American florists founded the Florists' Telegraph Delivery Service, which is now known as FTD. The company took orders through telegraphed messages, and this business model eventually spread across the world and evolved into what we know today. The advent of the Internet resulted in an explosion of floral companies, and now, ordering freshly cut flowers online for someone special is easier than ever. We mail flowers to friends and family for birthdays, anniversaries, weddings, celebrations, and even deaths or tragic events, and these businesses are there to help facilitate this practice.
Whether it's a single rose or a huge bouquet, the companies that send these arrangements are everywhere, and in the past, each offered the same one-time, one-bouquet option for its customers. Though this business model has survived the test of time, these companies are now offering their own monthly flower club services to match the quality and service available from The Fresh Cut Flower of the Month Club.
Why The Fresh Cut Flower of the Month Club Stands Above the Rest
Over the past decade, the professional florists here at The Fresh Cut Flower of the Month Club have worked to provide our customers with nothing but the best in floral arrangements. We've used our 60+ years of combined experience to evaluate what the other flower delivery services and monthly flower clubs do for their customers, and have taken everything one step further. Our dedication to quality isn't unnoticed by our customers – read some of our monthly flower club testimonials to see what we mean!
Quality and Freshness — There are few things more disappointing than receiving a bouquet in the mail and finding that the flowers are wilted, sub-standard, or nearly dead. You want flowers to be lively and to last once you receive them, which is why we cut and arrange our flowers just two days after harvest before we send them out through our overnight delivery service. This helps ensure that your bouquet contains fresh, healthy flowers that will thrive in your home for several weeks.
Seasonal Varieties — A beautiful bouquet can really warm up a home or office during the cold winter months, but finding fresh, high-quality flowers can be difficult. With our monthly flower club, we go around these seasonal limitations by working with international florists whose flowers are in season and ready to bloom. Whether it's Costa Rica and New Zealand in the winter, or The Netherlands and Jamaica in the summer, you'll know that you or someone special is getting top quality seasonal blooms and greens possible.
Our Fun, Informational Newsletter — Each shipment of flowers we send includes a detail-packed newsletter dedicated to that month's arrangement. These newsletters contain information on the flowers included in the bouquet, the country and region in which they were grown, some fun facts and care tips, and even the history and stories associated with the flowers. Our members have always enjoyed our newsletter, and we know you will, too.
Though the mail-order flower industry has grown and evolved over the years, The Fresh Cut Flower of the Month Club has remained focused on providing nothing but the best customer service and product quality. We hope you'll consider buying or gifting a membership to our flower of the month club.
Learn more about the history of mail-order clubs and the other great monthly clubs we offer: